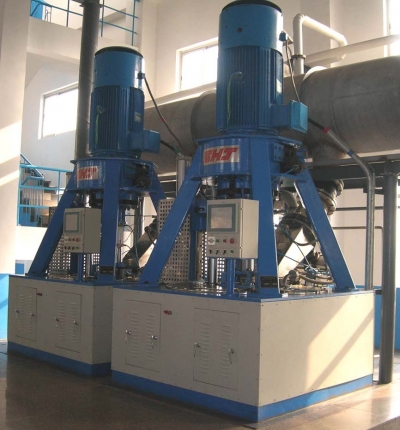 Top Suspended Peeler Discharge Centrifuges
Manufactured by RRI
- Top-suspended peeler discharge centrifuges are mainly used for cane sugar, beet sugar and glucose separation. It is one of the key equipment in sugar manufacturing industry.
- Currently, it is also used for xylitol, fructose, etc.
- These centrifuges can be used to process suspensions containing solid crystals of relatively low viscosity and with solid to liquid ratio (by weight) in the 45 to 60% range.
Main Performance Features for Top Suspended Peeler Discharge Centrifuge:
It is driven and controlled by AC frequency to meet the requirements for low speed feeding, high speed separation, and low speed discharge in automated and continuous cycling operation. The speed and duration in each stage of the cycle can be set to optimize the final result.
While the speed is decreasing, the power feedback brake is actuated, converting the mechanical energy of the basket into electrical energy which is fed back to the electrical power grid. This feature substantially reduces power consumption in the operation of the centrifuge.
The PLC is adopted for electronic control. The control parameters are set through the Operation Display Screen. Each operation procedure can be displayed at real time on the screen, which are designed to be user-friendly for the operators.
The centrifuge is equipped with electrical-pneumaticmechanical control system to implement fully automatic cyclic operation of all procedures.
All process material contact parts are fabricated from stainless steel to insure the cleanliness and sanitation during the product process.
The centrifuge features compact overall construction and stable operation.
The centrifuge is characterized by large volume, high speed, separation efficiency and production capacity.
High level of automation and low noise, requiring low labor.

RRI
Rousselet Robatel is a worldwide leader in the field of industrial centrifuges with over 100 years of experience. Rousselet Robatel manufactures the most types of centrifugal separator throughout the world. About SCMP Shanghai Chemical Machinery Plant Co., Ltd. (SCMP) is…
learn more